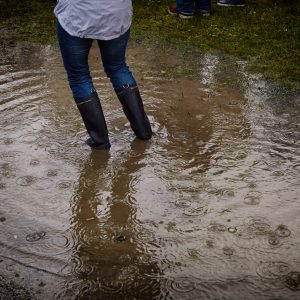 How to Spot Water Damage While Shopping for a House
From excess rainfall, melting snow, to the devastating floods that surround our community, water damage seems to be everywhere this time of year. If you're gearing up for a home purchase this Spring, it will be crucial to keep an extra eye out for signs of water damage or flooding that could cause a big issue later down the line. I chatted with a home inspector to gather a list of the most common signs of water damage so you can be prepared.
Visible Moisture Damage:
Baseboards of the finished areas in the basement
Stains on carpet corners
Stains on the bottom of door frames
Stains on bathroom cabinets
Potential Clues of Structural Elements:
Peeling or bubbling paint
Cracked grout in flooring
Warped or buckled wood and laminate flooring
Water rings on ceiling or walls
Cracked foundation line
Potential Mold Growth:
Humid or damp feelings
Musty odors
Potential mold growth can happen on walls, ceilings, sub flooring, floor joists, and even behind finished dry wall surfaces
And of course, it's always wise to get a home inspection, and additional inspections such as a mold test before you make a purchase.
Let's chat and discuss your home search.
Megan Owens, Realtor
"Delivering extraordinary care for extraordinary clients."
Berkshire Hathaway HomeServices Ambassador Real Estate
Phone | 402-689-4984     Email | MeganOwensRE@gmail.com
©Copyright. March 2019. Megan Owens.
All Rights Reserved