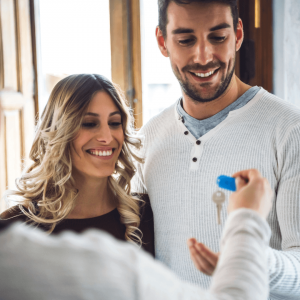 There's a first for everything, including selling your first home.
Whether you're moving for work or need to transition to a different sized home for personal or family reasons, selling your first home is quite different than buying your first home. These tips will make you a more prepared first-time home seller. You can also request your personalized home selling guide here.
Hire a Trusted, Experienced Agent
You want to work with a real estate agent who will net you top dollar and keep the transaction together from "listing" to "under contract" to "sold."
Hire an agent whose advice you completely trust and who always advocates for your best interest.
Make sure she has listed and sold homes in your neighborhood before and that she specializes in selling homes and not solely buying homes.
Is she a part-time or full-time real estate agent?
Experience counts.
Understand the Why
Helping your real estate listing agent understand your reason(s) for selling your home will likely guide her actions, advice and negotiations.
What's the most important in your home sale? If more than one person is involved in the sale, try to agree on these reason(s) before the initial meeting with the listing agent.
What's most important in your home sale?
Getting Top Dollar
Quick Sale
A Specific Closing Date
Selling So You Can Upgrade to a New Construction
Finding a Buyer Who Loves This Home as Much as You Do
Selling Before You Make an Offer on Another Home
Costs
A great listing agent will identify seller costs at an initial meeting. These may include: Updates or repairs to get your home in tip-top shape, agent commissions, closing costs, loan payoff costs etc. Ask your agent to estimate, by category, what the costs for selling your home may be.
When to Sell
Of course, this is up to you as the seller. But listen to your agent who is keenly aware of her marketplace and can readily coach you on times of the year when the buyer market is "hot."
Most think spring is the best time to list a home for sale. Is that fact or fiction in your market? Ask your listing agent. Also, are you prepared for your next move when your home sells? Be sure to have a plan in place before listing your home for sale.
Disclosures
You are required to disclose to buyers the home's "material defects" — anything you know about the home that can either have a significant impact on the market value of the property or impair the safety of the house for occupants.
These material defects tend to be big underlying problems, like foundation cracks, roof leaks, basement flooding, or termite infestation.
Your real estate agent will ask you to disclose any of these known defects when taking your home listing for sale.
Listing Price
Your agent should be familiar with your neighborhood and have sold a number of homes there. After your initial meeting, she will do a comparative market analysis (CMA) and present you an estimated value of your home.
Sure, you can do some research yourself on Zillow and come up with a suggested listing price. Keep in mind though that your agent knows first-hand variables that may affect differences between a Zillow estimate and one she presents to you.
Do some math. Have a general idea of what you'd like to make on the sale of your home. Consider the market value price your agent presents.
Together agree on a fair, competitive list price.
Overpricing
Insisting on over-pricing your home is not a good idea. It hurts your chances for a quick sale and often results in multiple price-cuts, which can be seen as a red flag for buyers who wonder what's wrong with the home.
The right price in a tight housing market can result in multiple offers: an ideal situation for home sellers.
A Great First Impression
Interior
Trust your agent's advice and counsel. She isn't emotionally attached to the home and is working to get you top dollar. You both want your home to shine on the very first day it is listed on the market.
Together decide if your home needs stagers, cleaners, contractors, painters, an inspector, etc. to make it look awesome and to ensure no unexpected inspection issues are discovered after your home is under contract.
Declutter your home and rent a storage unit, if need be.
Buyers favor neutral earth-toned paint colors and spacious rooms.
Painting, professionally cleaning floors and carpeting and replacing dated light fixtures and cabinetry hardware are low-cost ways to improve your home before listing it for sale.
Exterior
How your home appears from the street (curb appeal) is equally important to how it looks to buyers inside.
Make a great first impression by doing some of these outside:
Mowing and trimming the lawn
Painting the front door
Adding a planter or pot of flowers to the front entryway
Pressure washing the exterior
Fixing any driveway cracks
Marketing
Photography
When your home is ready to market, allow your agent to bring in a photography or film crew to showcase your home online (websites and social media) for quick sale. Be sure to view and approve all virtual tours and photographs before they go live.
Online Presence
After your home is listed, carefully read the listing description for accuracy and features. Is something missing or misleading? If so, contact your agent immediately.
It's no surprise most buyers look at a listing online before scheduling a home showing. Increase your showings by ensuring a great online presence.
Home Showings
Be prepared for home showings and a possible open house as soon as your home is listed. Keep the house in order and pre-plan for where you and your family will go when potential buyers and their agents come to tour your home.
Never remain in the home when it's being shown.
Offers
Your agent will present you purchase offers upon receipt. Be timely, yet thorough, in your response. Buyers can be impatient waiting for a counteroffer or an acceptance. If it's important that you close quickly, be willing to present creative bartering ideas in the negotiations, like leaving behind kitchen appliances or the pool table in the downstairs family room.
Remember it's not always about the money. Sometimes the contingencies on the offer will not work for you. Read and understand them before accepting an offer.
Inspection & Repairs Before Closing
Most purchase offers are contingent on a home inspection, meaning the buyer can back out of the offer if a serious problem is found on inspection.  [A home appraisal is required by the buyer's lender, as well. The appraisal is managed by the buyer's agent and paid for by the buyer.]
The home inspector will examine your home both inside and out and create a report. The buyer then presents a list of repairs to the seller.
If you and the listing agent prepared your home well for sale, few, if any, major repairs will be required at this stage of the selling process.
Your agent will work with you to negotiate the requested cosmetic or normal wear and tear repairs. You may agree to make reasonable repairs or offer closing cost credit for some. You also may refuse to do some repairs you deem unnecessary for sale.
If a structural defect, safety issue or building code violation was reported, you likely will have to deal with this repair before any sale closes.
Final Walk Through & Closing
The lender has cleared the way for the buyer and set a closing date and time. The buyer's agent will schedule a final walk through or a pre-closing inspection. Here the buyer will ensure that all contractual items are completed, including any agreed upon repairs.
The transfer of all documents and money takes place at the official closing so the property is transferred free and clear to the new buyer.
Seller Checklist
As the seller, before the closing you should:
Bundle all sales documents
Leave notes for the buyer on any irregular quirks like which switch turns off a certain light, etc.
Turn off shut-off valves to things like toilets, washing machine, etc. and leave a note for the buyer that you've done this
Cancel the homeowner's insurance policy
Close the utility accounts or transfer to your new home
Leave keys and garage door openers, etc. for the new owner
Clean the home and leave it in a condition you'd like as a new home owner
Double check all cabinets and shelves for personal items
Close window coverings, turn off the lights and lock the door
Change your address with the United States Postal Service
Let's chat and discuss your selling process.
Megan Owens, Realtor
"Delivering extraordinary care for extraordinary clients."
Berkshire Hathaway HomeServices Ambassador Real Estate
Phone | 402-689-4984     Email | MeganOwensRE@gmail.com
©Copyright. May 2019. Megan Owens.
All Rights Reserved