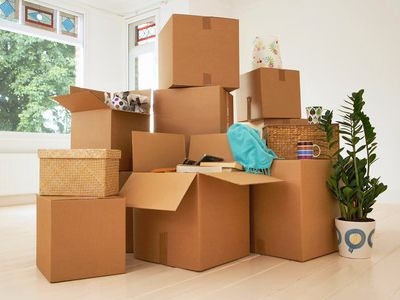 We've found your dream home and now you have 30-60 days to prepare to move into it. Congratulations! Though it may not be the most glamorous part of buying a home, it is a necessary step. Summer is the most popular time to move. Kids are out of school, the weather is better and friends are more available to help. If you're hiring professional movers, keep in mind that this is also their busiest time. I'm happy to refer you to reputable local movers.
Let's get you moved smoothly and quickly so you can settle into your dream home.
Sort, Donate, Sell & Discard
Never pack everything from your current home with the intent of sorting it all when you get to your new home. It never happens. Instead, 6-8 weeks before moving, decide what will be donated, consigned, sold online or at a garage sale, or thrown out. Why pay to move items you no longer need or want?
Plan & Stay Organized
Know your move-in date and schedule backward. Rent a moving truck or hire your movers as soon as possible. Give them an accurate picture of the number of items you are moving to get the right sized truck. Read details of both the moving company and your Home Owner's Association. Are there certain items they won't pack or move? Do you have to use certain sized boxes? Are there restrictions on days and times you can move into your new home? Know ahead of time. If you're doing your own packing, purchase the necessary packing items: boxes, tape, labels, markers, bubble wrap, string, etc. Clear plastic bins are a popular alternative to cardboard boxes and rent a box company now deliver boxes for the move and pick up after. Assign a 'finish' date by room, knowing that there will be last minute items for each room that will be needed up until moving day. Perhaps download a moving app on your phone to help keep you organized and on schedule.
Pack Seasonal & Rarely Used Items First
You're not likely using the fall and winter holiday decorations or the winter clothing and coats if you're moving in the summer. Sort through all of those items first and pack those that you are keeping.
Label, Number & Color Code Boxes
While it may sound like too much work, this advance work pays dividends when you arrive at your new home surrounded by a sea of tubs, bins, and boxes, wondering where the toaster is. Go two steps further than writing the room on each box. Color code the label for each room (like green for guest bath) and give each box, per room a number. Keep a master list on your phone or in a notebook, identifying contents by the numbered box. Write the room and number on all sides of the box as well as on the top. Use this master list as boxes are being unloaded to ensure all of your items make it into your new home. This is especially critical if you are using a hired moving company.
Multi-Purpose Pack
Pack every large container like hampers, suitcases, and baskets. Wrap glassware in socks and other breakables in towels, linens, and pieces of clothing. If the moving company allows, remove dresser drawers and keep contents inside. Cover with an industrial roll of stretch wrap.
Prevent Spills & Breakages
Enclose all liquids with plastic wrap or zipped bags. Wrap and pack plates on their sides to prevent breakages. Place stemware upside down in boxes with dividers like those liquor stores use for wine. Put the crushed paper on the bottom of boxes for cushioning and pack in layers with heavier items on the bottom. Pack each box full. Defrost the refrigerator and drain the washing machine (pending those are included in the sale).
Secure Nuts & Bolts
Place nuts, bolts, and other hardware from unassembled items in labeled zipped bags, making assembly easier at your new home. Place all bags in an easily accessible and well-marked container. This works for electronic cords too.
Clean it Up
Someone will likely move into space you're vacating. Clean the space ahead of time so on moving day a quick sweep is all that's needed. Fill in nail holes and meet other move-out conditions, if you are a renter expecting a deposit back. If you sold the home, be sure to treat the home with the same respect you will be anticipating at your new digs. Take photographs before leaving and, if possible, clean your new home before moving in.
Secure Important Papers
Across town or across the country it doesn't matter. You will need quick and easy access to certain documents. Keep these items, including your passports, birth certificates, credit cards and fine jewelry in a locked safe that remains with you at all times, or at least in a bag that is not on the moving truck.
Pack Overnight Bag
Pack a bag for each person. Include a change of clothes, toiletries, soap, bath towel, medications and other essentials like computers and phone charges.
Prepare Moving Day Kit
Place items such as scissors, box cutter, Duct tape, pens, paper, Band-Aids, garbage bags, toilet paper, paper towels, measuring tape and a flashlight into a container and keep in a personal vehicle. Keep the vacuum cleaner and broom handy and have bed linens easily accessible as well.
Turn Utilities On
Have all utilities switched over from the previous owner's name to yours? The electricity, running water and Internet service should be on when you arrive. I will remind you of this prior to the close date, but just in case, this is an important tip to remember.
Think About Food
Try to use up all of your refrigerated and frozen items before move day and stop buying groceries at least two weeks before the move. Yes, there may be some interesting meals, but that's better than worrying about keeping refrigerated foods safe while moving. A loaf of bread, peanut butter and jelly might be ideal for moving day. Keep what you'd like to eat that day easily accessible and remember you will also need plates, napkins, flatware, and glasses.
Stage on Main Floor
Regardless if you are moving, enlisting some great friends or hiring professional movers, your move time will be much easier if you can haul packed and labeled boxes to a staging area such as your garage or living room area on the main floor well before moving day. Stairs slow down movers and moving consumes a great deal of energy. Make it easier for all by having as many containers on the main floor as possible. By all means, use a moving dolly.
Protect Children & Pets
Moving is a bit stressful for all, but especially for children and pets. Consider hiring someone to watch both to reduce stress on all.
File Change of Address
Two weeks before moving in, file this with the United States Postal Service and all those from whom you regularly receive mail.
Are you ready to list your home or start looking for a new home to move into? Let's meet.
Contact me today.
Megan Owens, Realtor
"Delivering extraordinary care for extraordinary clients."
Berkshire Hathaway HomeServices Ambassador Real Estate
Phone | 402-689-4984     Email | Megan.Owens@bhhsamb.com
©Copyright. February 2016. Megan Owens.
All Rights Reserved. Photo Via: Flickr