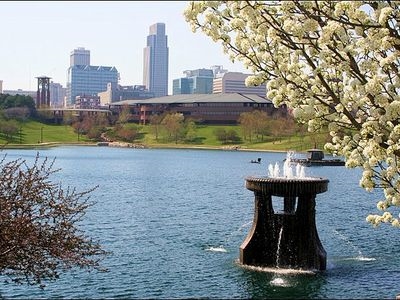 Omaha-activities
Get Out and Explore All Omaha Has to Offer
Omaha is Nebraska's largest city. It offers plenty of entertainment and attractions for all ages and interests. Check out 12 places to explore and find bonus links below.
12 Places to Explore in Omaha
OPPD Arboretum https://www.oppd.com/residential/trees-power-lines/arboretum/
LOCATION: 108th and Blondo, adjacent to an OPPD substation
This is an ideal place to visit if you are planning to upgrade your yard with shrubs and plants. It contains groupings of native Nebraska trees, a conifer collection and lowland/wetland plantings ideal for the Omaha region. Explanations of each plant and how to plant these trees and shrubs around power lines are provided.
The Arboretum is open to the public from dawn till dusk. A paved walking trail and wood chip trail are available as well as restrooms.
Henry Doorly Zoo and Aquarium http://www.omahazoo.com/
LOCATION: 3710 South 10th Street
One of Nebraska's most popular tourist destinations. Check the website for hours and admission fees. Also look for paid Animal Encounters and Backstage Experiences. Plan on spending a full day. Going in summer months, pack patience. It can get busy and hot.
St. Cecilia Cathedral http://www.stceciliacathedral.org/
LOCATION: 701 North 40th Street
The twin bell towers of this lovely hillside cathedral are one of Omaha's key landmarks. It was founded in 1905 and took over 50 years to complete. It is a national landmark containing more than 3 million bricks. It is one of the most outstanding cathedrals in the USA.
Bob Kerry Pedestrian Bridge https://www.visitomaha.com/bob/
LOCATION: 705 Riverfront Drive-just north of downtown Omaha
S-curved, a cable-stayed 3000-foot pedestrian bridge connecting Iowa and Nebraska. A plaque marks the spot where the two states meet. Take a photo there. Bicycles are encouraged, as paved trails are on either side of the bridge. The Omaha landing features the Omaha Plaza, with bench seating, exhibits, a water jet spray fountain, a Fiber Wave Sculpture, play area, and a National Park Service Visitors Center (Lewis and Clark National Historic Trail Headquarters https://www.nps.gov/lecl/index.htm).
Fontenelle Forest and Neale Woods http://www.fontenelleforest.org/
LOCATION: 1111 Bellevue Boulevard North Bellevue, NE Located off HWY 75, minutes from downtown Omaha
26 miles of maintained trails and 2,000 acres of upland and lowland forests, native prairies, wetlands, lakes, and waterways. To create a memorable adventure in the forest right here in Omaha, NE. Check the website for hours and admission fees.
Gene Leahy Mall https://parks.cityofomaha.org/
LOCATION: 1302 Farnam in downtown Omaha
This isn't a traditional bricks and mortar shopping mall. This is a 10-acre outdoor green space in downtown Omaha near the Old Market District. It is locally referred to as "The Mall or Central Park." Highlights include a lagoon and waterfalls, walking paths, gardens, playground, amphitheater and a sculpture garden. It connects to Heartland of America Park. Each winter it's the centerpiece for the Annual Holiday Lights Festival. http://www.holidaylightsfestival.org/ Kids love the giant slide here.  Pets enjoy the vast open outdoor areas.
Omaha Community Playhouse http://www.omahaplayhouse.com/
LOCATION: 6915 Cass Street-near UNO Dodge campus
The Playhouse is the largest community playhouse in the USA. It houses two state-of-the-art performance spaces: Hawks Mainstage Theatre and Drew Theatre.  Check the website for upcoming performances and ticket prices, including young professional and student tickets.
The Florence Mill http://www.theflorencemill.org/
LOCATION: 9102 North 30th Street
Open May-October, the Mill is a National Register Historic site that once served as a grist mill. It was built under the supervision of Brigham Young. Today it serves as an art-loft gallery, museum, farmer's market location and one of the sites on the North Hills Pottery Tour. http://www.omahanorthhillspotterytour.com/
Check the website for dates and hours of each event.
Boys Town http://www.boystown.org/Pages/default.aspx
LOCATION: 13628 Flanagan Blvd 137th and West Dodge Rd
Visit the Hall of History, Visitors Center and the Father Flanagan House in this National Historic Landmark District. Attend mass on campus. Get an up-close look at the world-famous Village established by Father Flanagan. Check out the World's Largest Ball of Stamps and walk the lakeside path.
Kenefick Park http://www.lauritzengardens.org/About/Kenefick_Park/
LOCATION:  100 Bancroft Street
Named after the former Union Pacific Chairman and CEO John C. Kenefick this park sits on the southwest corner of the Lauritzen Gardens property and is easily visible from I-80. Park in the Lauritzen Gardens lot and walk to the top of the hill to see the largest and most powerful diesel-electric locomotive ever built and the world's largest steam locomotive.   
Featuring several plazas, seating areas, a grand staircase, "canyon" stone walls, interpretive signage, sculpture and walkways, the park documents Union Pacific Railroad's role in the development of Omaha and the West.
Lauritzen Gardens: Omaha's Botanical Center http://www.lauritzengardens.org/
LOCATION: 100 Bancroft Street
A hidden sanctuary in the heart of Omaha, the Gardens are planted for visitors to enjoy all four seasons. In addition to the exquisitely maintained gardens, a visitor and education center features a floral display hall with seasonal flower shows, a unique gift shop, café, a horticulture resource library, banquet and meeting spaces, and classrooms. Check the website for hours and admission fee.
Hot Shops Arts Center http://www.hotshopsartcenter.com/
LOCATION: 1301 Nicholas Street One block north of home plate at TD Ameritrade Park. Free parking located on 13th and Izard Streets
This center hosts over 80 studio artists and multiple gallery spaces, along with four anchor artists. Click on the website for classes, a list of artists and Open Houses, along with demonstration times.
Bonus Links
City of Omaha Parks, Golf Courses and Pools https://parks.cityofomaha.org/
Omaha Visitors Center Link with List of Activities to Do https://www.visitomaha.com/things-to-do/