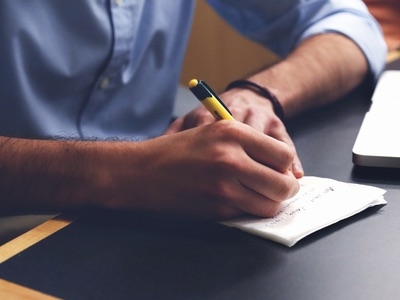 The Power of a Handwritten Note
Personal:
In an age where technology and digital communication have become so prevalent in our society, often times we can overlook the power of a handwritten note. Sometimes it's best to stick to the basics and the old-school way of thinking. When we think about it, we get hundreds of emails, but so few personal notes in the mail. When we open our physical mailbox, is one of the first things we open amongst all of the junk mail and bills. Every time I get a handwritten note in the mail, it makes me smile and truly does mean a lot to me, personally, knowing that someone took the time out of their day to write a little note.
Personal handwritten notes getting rarer by the day — where emails, tweets, and text messages are more accessible than handwritten notes — this is the natural evolution of communication.
Notes indicate an investment in the relationship: They take longer to draft, each word carefully chosen with no "undo" or "autocorrect" to fall back on. Drafting one involves selecting stationery, paying for stamps, and visiting a mailbox.
Business:
In business, inboxes can be flooded with and an endless flurry of to-dos that have to be organized or responded to. A note of gratitude can often go unrecognized in the masses. In comparison, the average American receives just one note every seven weeks. Your note is sure to stand out, present a new business opportunity, or to leave a lasting impression.
It can mean more than a 'thank you'. Notes can follow up on a conversation, remind someone they're not forgotten, raise new issues, serve as a 'well done' or even include a gift.
So the next time you are getting ready to shoot off a 'thank you' text, grab a pen and note card and show your appreciation. And when you receive a note from me, just know that I truly value our relationship.
Are you ready to buy or sell a home? Are you ready to connect with your neighbors?
Let's connect.
Megan Owens, Realtor
Owens Real Estate Group
"Delivering extraordinary care for extraordinary clients."
Berkshire Hathaway HomeServices Ambassador Real Estate
Phone | 402-689- 4984 Email | Megan.Owens@bhhsamb.com
©Copyright. August 2017. Megan Owens.
All Rights Reserved.